Garden Retreat understand 2020 has been a very tough year for us all, not least the care industry. With Christmas around the corner, precious time spent with loved ones is a necessity.
Our new range, the Care Home POD and the Care Home CUBEs, offer you a safe solution for both residents and family.
This is close to all of our hearts and we have tried to come up with a design that is not only cost effective but easy to install, it comes in kit form allowing you or your local trades company to install either the POD or CUBE. Alternatively, we can quote to install the POD / CUBE on your behalf. We have already reduced our prices as much as possible to demonstrate our commitment and provide a value for money solution.
Care Home Visitor POD
Individual Access points for both Visitors & Residents
Mitigates the risk of Infection
Easily installed with no major groundworks required.
A comfortable, warm and inviting setting to enable much needed visits to carry on.
Dimensions – 6.1m x 2.9m
Can be easily sited on top of an existing flagged or carpark area.
Separated by Perspex/Glass allowing for a much safer COVID-19 secure environment.
Wheelchair accessible
Hygienic wipeable walls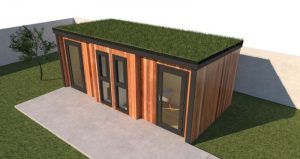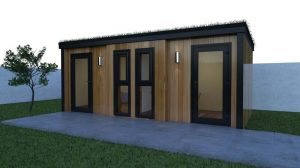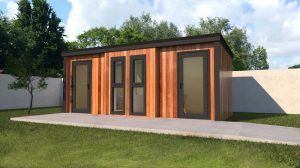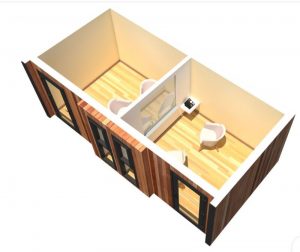 Care Home Visitor POD – Plan View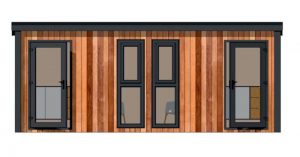 Care Home Visitor POD – Front Elevation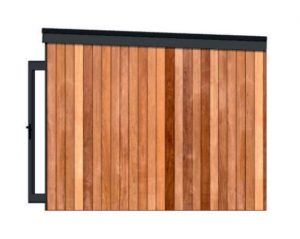 Care Home Visitor POD – End Elevation
Care Home Visitor POD Specification
Treated timber base with loading points
Built with sip panel technology
EPDM rubber membrane roof
Double glazed argon filled window and door with low threshold
Treated redwood pine cladding
Scratch resistant wipe clean T&G effect internal board
Heavy duty laminate flooring
Pine skirting board and trims
Consumer unit, two light switch, four double sockets and two outside light
Care Home Visitor CUBE
The Care Home Cube is our budget solution
Residents remain in the comfort of the residential home
Ideal for those who find it hard to commute into a garden setting
Simply sited outside close by to windows/patio doors/conservatory
Allows visitors to visit whilst mitigating the risk of infection
Built using SIPS technology (Structurally Insulated Panels)
Manufactured in our factory
Walls lined with scratch resistant hygienic board for easy clean and wipeable surface.
Easily installed with no major groundworks required.
Dimensions – 2.5m x 2.6m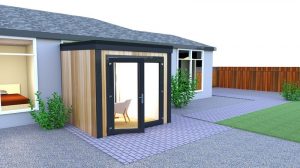 Care Home Visitor CUBE – in Situ Against a Window or Patio Doors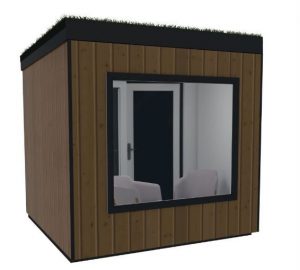 Care Home Visitor CUBE – Rear Elevation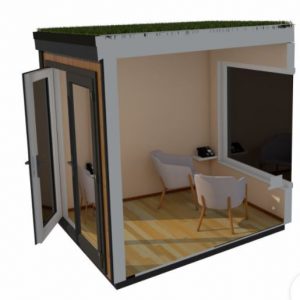 Care Home Visitor CUBE – Sectional View
Care Home Visitor POD & CUBE Options
Cedar cladding upgrade
Infrared heater and thermostat
EPDM rubber membrane roof
Intercom system
Artificial grass for the turf
Glove ports with gloves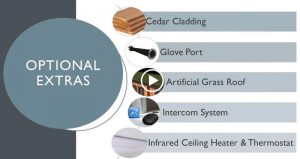 Care Home Visitor POD & CUBE – Optional Extras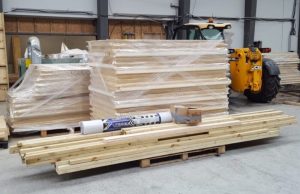 Care Home Visitor CUBE Kit ready for dispatch
All of our buildings are built from SIPs (Structural Insulated Panels).
SIPs are one of the most environmentally responsible building systems available. Our buildings provide continuous insulation, are extremely airtight, allows for better control over indoor air quality, reduces construction waste, and help to save natural resources. Life cycle analysis has shown that SIPs buildings have a tremendous positive environmental impact by reducing energy use and greenhouse gas emissions throughout the life cycle of the building.
Whilst Garden Retreat (UK) Ltd can open endless doors for your business, we understand the complications behind parting with capital to make a purchase. That is why we've partnered with the UK's leading equipment leasing and finance facilitator. Contact Garden Retreat for further information on 01202 355346