Mr V Contacted us from Nottingham requiring a 2.5m high garage which he wanted to use as a workshop with a personnel door and an opening to fit his own window.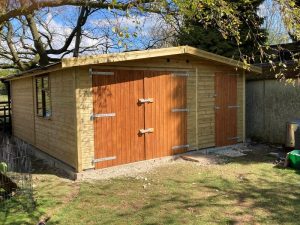 Our timber triple garages are constructed using 100mm x 38mm timber framing clad with tanalith BS8417 shiplap, bitumen paper and 4mm plywood lining.  This standard garage, has 300mm overhangs to the front and sides with guttering down both sides, the overhang to the rear gable end is 150mm. The eaves height on this single garage is 7' 1" plus the single engineering brick course. The ridge height varies depending on the width of the garage but sits generally around 3.5 metres.  The ridge height on this garage has been reduced to 2.5m to sit within the planning regulations.
This timber garage has one set of standard barn doors (or metal up and over) and the garage also comes with guttering, either black or brown with down pipes.
The standard covering for the roof is a heavy duty felt or you can opt for felt tiles, a metal Rollaclad roof, Tapco Slate or Cedar shingles. This particular garage has standard heavy duty felt roofing with a waterproof underfelt. In addition the customer also requested a personnel door and window opening so he could fit his own window. We can also install partitions if required.
One concern for a number of customers is the damp proofing.  When the sections are bolted through the single course of bricks into the concrete base the timber clad runs 50mm down the outside of the brick.  In addition to this the vapour barrier also runs down the same distance ensuring no rain water can get into the building.  One further measure is a DPC is attached to the bottom rail of the section which sits on the top of the brick and stops any moisture in the brick rising up into the timbers.
If you are interested in this design or would like something similar please do not hesitate to contact us for a quotation?
TESTIMONIAL
"Excellent product, service and value. From start to finish the project was discussed, agreed and delivered in accordance with my requirements and expectations on time, quality and price. The installation went without a hitch and was completed in just over 1/2 a day. No mess, no fuss just a happy customer. I would absolutely recommend Garden Retreat and should any similar future projects arise I shan't again spend numerous hours researching which company to employ. If quality and value are important to you I implore you to look no further than this review and give Jim a call now." Verified Review By Houzz
Mr V – Cossall, Nottingham.