Garden Retreat was contacted by the Committee of the Crowle Community Shop with a view to provide a local shop run by the community and benefit the community in a number of innovative ways.  Garden Retreat was delighted to be able to quote and be involved in the process through to installation.  To understand the project in more detail The Worcester News wrote an editorial………

15 July 2017
Crowle residents choose locally produced foods to be sold in their new shop
RESIDENTS of a small Worcestershire village and the surrounding areas turned out in force to lend their support to a project aiming to bring a new village shop stocking local produce to their community.
More than 200 people attended a free food-tasting fayre – opened by food critic and author Charles Campion – at Crowle Village Hall where they were given a chance to find out about the venture and sample food, including sausages, bread, cheeses, chutneys and pickles, savouries, cakes, biscuits, jams, ice cream, beer, cider, wine, fruit juice and more from more than 20 local producers.
Planning permission has been granted for The Shop at Crowle near the village hall. Apart from tasting local products, the villagers were also ask to choose which products from local farmers and suppliers they would like to see on the shelves of the new shop.
It is estimated the store – a 50ft x 20ft timber-clad building on the village hall site – will cost £88,200 to set up. It will be run entirely for the benefit of the local community.
The project is already half way to its target with grants totalling £43,750 in the bag. The Prince's Countryside Fund has provided a grant of £29,750 while Severn Waste Environmental Fund has contributed £9,000; Wychavon District Council's Community Grant Scheme has given £3,000; Crowle Parish Council have come up with £1,000 a county councillor's Discretionary Fund has given £1,000 and other grant applications are waiting approval.
Helen Aldis, manager of The Prince's Countryside Fund, said: "We are delighted to support Crowle's community shop. Not only will it provide a convenient place for local people to shop, but also it will be a new social meeting place where the community can come together.
"This will make an important and sustainable contribution to the quality of life of those who live and work in the area."
The community is also holding a series of fund-raising activities including an auction of promises, a late summer ball, raffles, cake sales and more hoping to bring in £5,000.
It is also hoped a share scheme where local residents can buy £10 shares in the shop will accrue £30,000 towards the costs. Share-owners will have membership of the shop's community benefit society and mean they can stand for election to its management committee.
It is hoped the shop will open early next year and be staffed by one or two part—time managers unless a suitable volunteer is found. In the meantime more than 70 volunteers have already come forward to offer help to set up the shop and 40 of these have volunteered to serve in it.
Stephen Denne, retired business consultant from Crowle who heads the shop's project management team, said that the community shop has inspired many residents from the local area.
"The shop is a really exciting new project and our research, which showed that there is a lot of demand for it, has been borne out by the tremendous response we have had both from volunteers coming forward and also local people, who have enjoyed the fayre on Sunday and want to use the shop.
"It is going to bring many benefits to people in our area. It will give local people easy access to convenience items as well as products from over 20 local suppliers and farmers, which will boost rural businesses, create new jobs and be good for the environment.
"We are looking to offer a local home delivery service, with telephone ordering, for those who can't get out easily. And the shop will help to combat isolation by being a new community-hub for shoppers and also for those who work there."
He added it would also provide training and development opportunities, especially for young or disadvantaged people or those looking to return to work.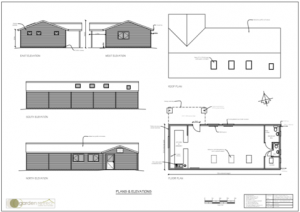 Plans for new farm shop to be supplied and installed by Garden Retreat
 Once the specification had been agreed between The Crowle Community Shop and Garden Retreat, the farm shop was programmed into the manufacturing process, but before the farm shop could be installed a concrete base had to be built to accept the farm shop.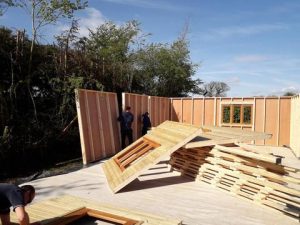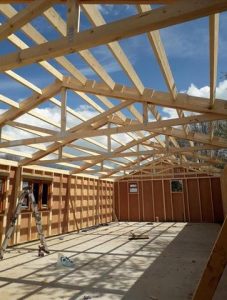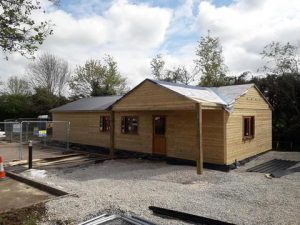 The size of the farm shop externally is 15m wide x 6.1m deep with a 2.2m overhang porch for Customers to enter.
The porch is supported by 2 heavy duty posts which sit on corresponding concrete supports.
The structure of the farm shop is manufactured from 16mm x 125mm tanalised shiplap which has a vapour barrier inside, the vapour barrier is then sandwiched with a moisture resistant 4mm ply and the external ship lap. This is then double nailed onto 100mm x 38mm timber frame every 600mm. insulated and boarded.
The roof is manufactured using heavy duty moisture resistant OSB3 board, 50mm x 125mm heavy duty purlins every 600mm. The exterior of the roof has then been finished with under felt and a metal Rolaclad type roof with sky lights.
Completed Photos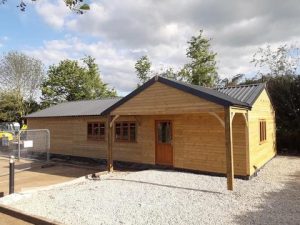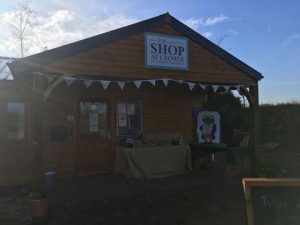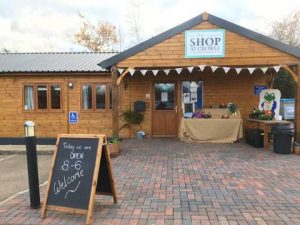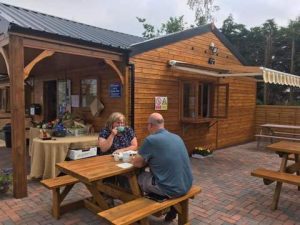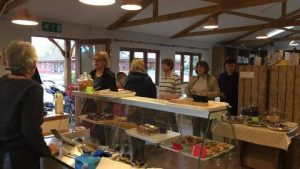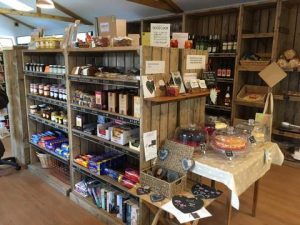 Good Luck for the future from everyone at Garden Retreat!