Bellway Homes contacted Garden Retreat in 2014 with reference to a replacement farm shop.  This was to be part of a new development which required an existing farm shop to be replaced and a new one installed to enable a new access road to be built.  This is how the development was reported in the Worcester News:

Friday 21 June 2013
Massive 400 home development gets go-ahead
A MASSIVE development of more than 400 homes will be built on the outskirts of Evesham after planners gave the project the go-ahead.
The housing development off Pershore Road in Hampton – an allocated site in the emerging South Worcestershire Development Plan – has been in the pipeline for well over a year and just nine letters of opposition to the plans have been received by Wychavon District Council.
It will be built in two phases, with developers Bellway intending to build 151 homes as part of the first stage.
Roger Davies, Charlton Parish Council chairman, spoke against the plans at the Wychavon planning meeting last Thursday (June 20). "The village of Charlton has a history of properties flooding by the Merrybrook, which is downstream from the development," said Mr Davies. "We feel as much as possible should be done to meet the flood resilience team (Environment Agency) requirements."
But Giles Brockbank, from Bellway, said he was pleased the plans had largely been positively viewed. He said: "At this stage we feel at having only nine objections to a scheme of 400 units is very rare in the circumstances."
As part of the plans the Hampton Farm Shop will be relocated and a foot and cycle bridge will be built across the river Avon linking Hampton with Boat Lane.
Councillor Judy Pearce said she was concerned the bridge, earmarked to be paid for by Bellway at the beginning of the second phase, would not be built for a number of years leaving Hampton residents struggling to get into Evesham town centre.
She said: "It is not acceptable that the bridge turns up years after people have lived there. We are saying this is going to have a huge impact on the people of Hampton getting into Evesham."
Councillor Judy Pearce also raised concerns about the location of wheelie bins on the site saying the clusters of pick up points were a dangerous "hazard".
She added that she felt these were issues that could be resolved through conditions being placed on the application and it was important to get the houses built in order to receive Housing Capital Funding for affordable housing.
The application was passed with only Councillor Audrey Steel objecting.
Before Photos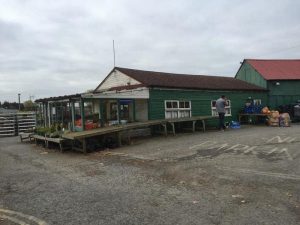 Existing Hampton Farm Shop

Concept Hampton Farm Shop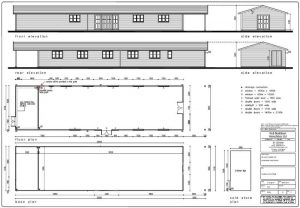 Plans for new farm shop to be supplied and installed by Garden Retreat
Once the specification had been agreed between Bellway Homes and Garden Retreat, the farm shop was programmed into the manufacturing process, but before the farm shop could be installed a concrete base had to be built to accept the farm shop.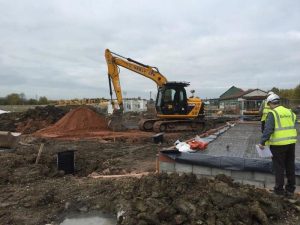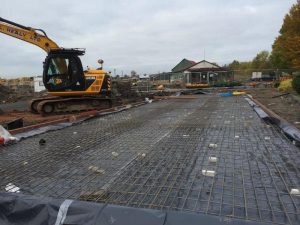 The size of the farm shop internally is 23m wide x 6.1m deep with a 2.9m overhang porch for Customers to enter.
The porch is supported by 4 heavy duty posts which sit on corresponding brick built piers.
The structure of the farm shop is manufactured from 16mm x 125mm tanalised shiplap which has a vapour barrier inside, the vapour barrier is then sandwiched with a moisture resistant 4mm ply and the external ship lap. This is then double nailed onto 100mm x 38mm timber frame every 600mm.
The roof is manufactured using heavy duty moisture resistant OSB3 board, 50mm x 125mm heavy duty purlins every 600mm. The exterior of the roof is then finished with under felt and slate grey tiles with black guttering and down pipes.
Completed Photos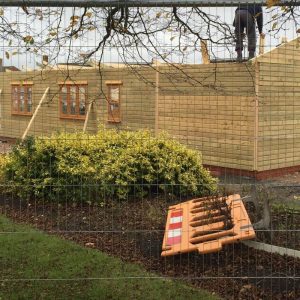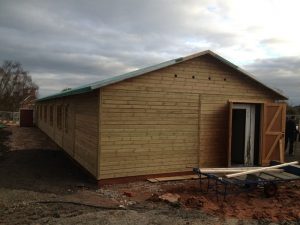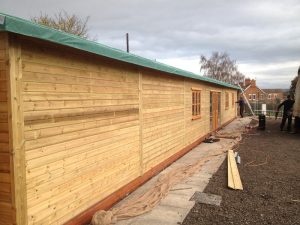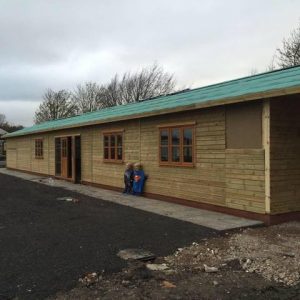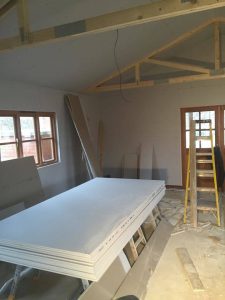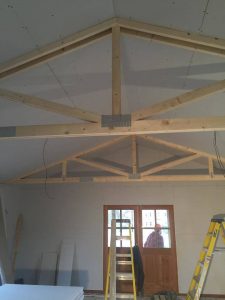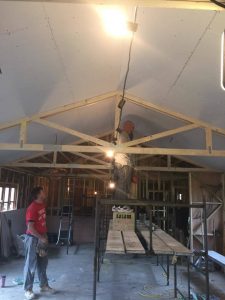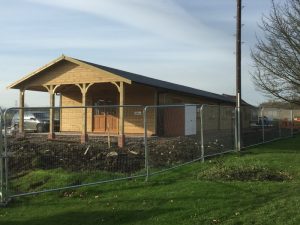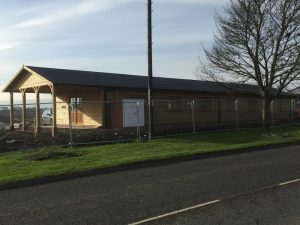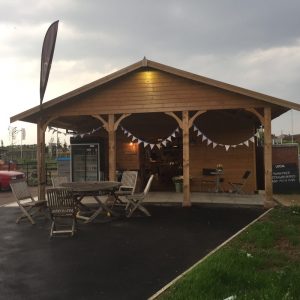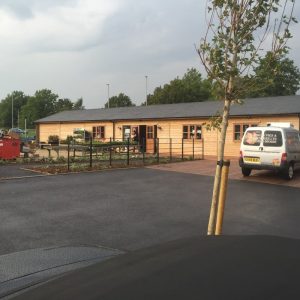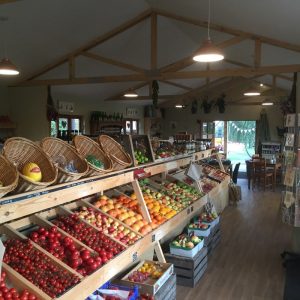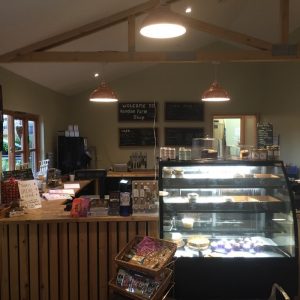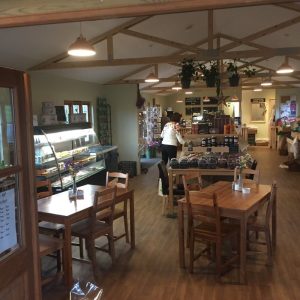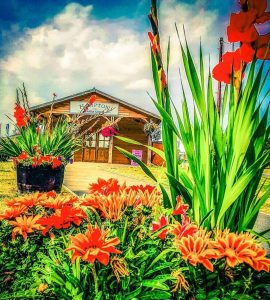 From installation to OPEN in 30 Days! Good luck for the future……………..
Testimonial
"Garden Retreat exceeded my expectations in every way. We ordered an extremely large cabin for our new farm shop and the craftsmanship really was fantastic.

The team who assembled the unit were friendly- efficient and professional. Any questions were answered and nothing was too much trouble. Great value and these guys would come very highly recommended!" Verified Review By Houzz

Chris Groves, Owner, Hampton Farm Shop, Evesham, Worcestershire.