Mr M was interested in a single timber garage but it had to fit within a very tight space but he obviously wanted to maximise the space available without overhanging the neighbour's fence or interfering with an existing structure.  As the timber garage was to be positioned close to the boundary it had to be no higher than 2.5m to the pitch to meet with current planning rules.
To ensure we maximised the space at the 2.5m height we drew up the gable end with the dimensions and overhangs to make sure there would be no mistakes during installation.  This was extremely helpful for the Customer as it gave him confidence it would fit before the day of installation.
Completed Photos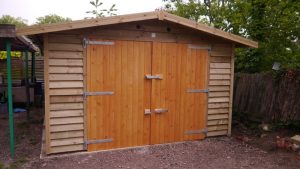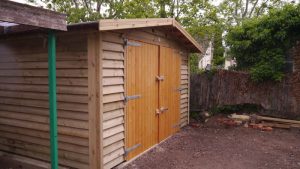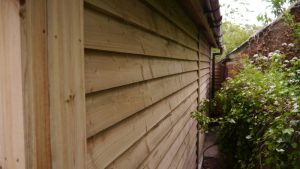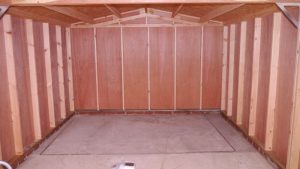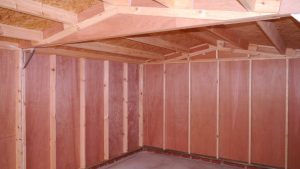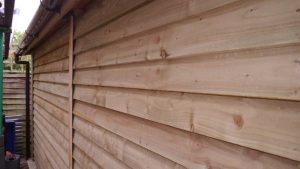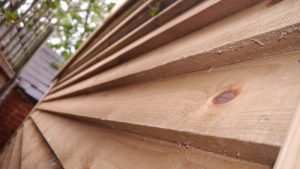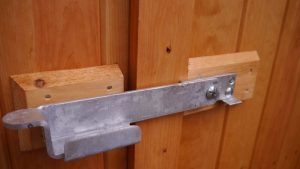 Our timber garages are constructed using 100mm x 38mm timber framing clad with tanalith BS8417 shiplap, bitumen paper and 4mm plywood lining.  This particular garage, instead of having 300mm overhangs plus the guttering was reduced to 150mm to maximise the footprint of the garage. The eaves height on a single garage with the standard double doors in the gable end is normally 7' 1" plus the single engineering brick course.  In this instance the eaves height was lowered and the pitch reduced to satisfy the required 2.5m to the pitch.
The set of double barn doors come with the single timber garage as a standard and includes black or brown guttering with down pipes.  Mr M. decided to opt for the feather edge option which provides the garage with more of a rustic look.
One concern for a number of customers is the damp proofing.  When the sections are bolted through the single course of bricks into the concrete base the timber clad runs 50mm down the outside of the brick.  In addition to this the vapour barrier also runs down the same distance ensuring no rain water can get into the building.  One further measure is a DPC is attached to the bottom rail of the section which sits on the top of the brick and stops any moisture in the brick rising up into the timbers.
The Customer intends to insulate and board the garage with Celotex and ply and as you can see the internal design makes it easy to insert the insulation and screw or nail the board to the frame work.
If you are interested in this design or would like something similar please do not hesitate to contact us for a quotation?
Testimonial
"Being a thorough sort of person I researched a number of options for my 20ft x 12ft timber garage and went into great detail, creating spreadsheets and detailing the pros and cons.

I knew I wanted a quality product and I wanted to have tanalised timber which narrowed the field too.  I was also concerned about the point at which any wood might be sitting in water on the base.

Garden Retreat ticked all the boxes, the garage sits on 1 course of bricks and the cladding stops short of the base, so even if water does stand on the base it won't make contact with the wood.  Additionally, Garden Retreat ply line their garage for extra strength and security.  In the end, the choice was easy, only Garden Retreat met all my criteria and they were a pleasure to deal with from pre-order to delivery. The erection was on time, quick and fuss-free and the finished product looks fantastic. Highly recommended supplier!" Verified Review By Houzz

Mr M – Chesterton, Oxfordshire – 12ft x 20ft Single Timber Feather Edge Garage