Mr & Mrs H Contacted Garden Retreat requiring a garden office in their garden. There wasn't a huge amount of space but we were able to design and install the perfect garden room which maximised the space and at the same time looked like it had been there for years. Mr & Mrs H decided to go for a building from our  Contemporary Garden Office & Garden Room Range and with the built in insulation, electrics pack, double glazed windows and doors, this building provides a great space for an all year round cosy and warm retreat for them to enjoy.
Once Garden Retreat has painted both internally and externally Mr & Mrs Hughes already had the office furniture and it was up and running in days.
MOCK UP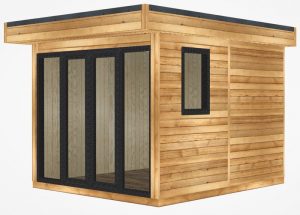 BEFORE PHOTOS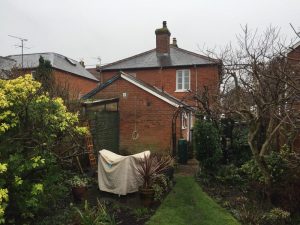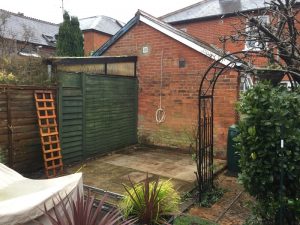 THE BUILD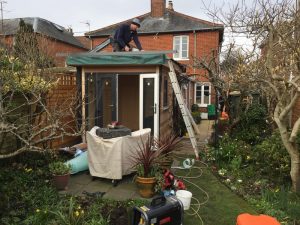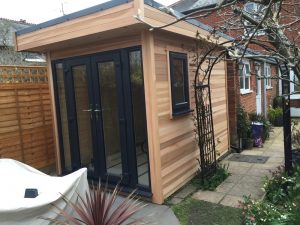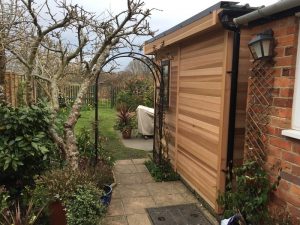 DECORATING & FURNITURE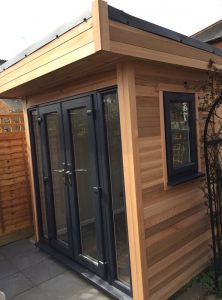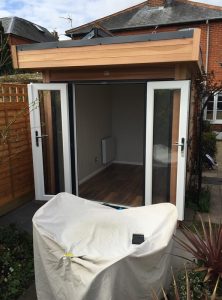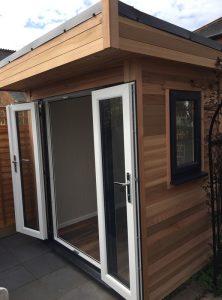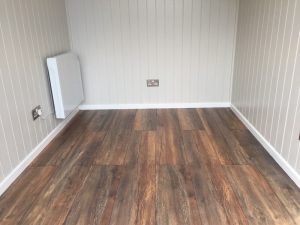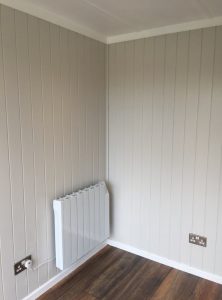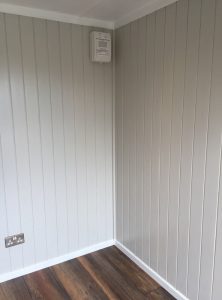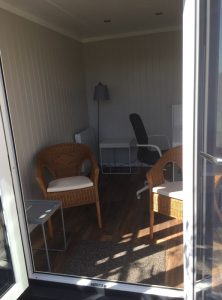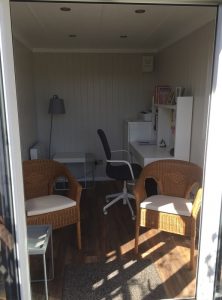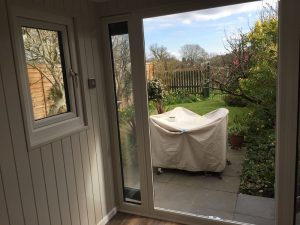 This contemporary garden building is constructed using an external timber clad with a cedar clad interlocked shiplap and bitumen paper.  The walls are constructed using a 75mm x 38mm timber frame, 50mm Celotex and a grooved 12mm inner ply to finish the walls. The total thickness of the walls is 100mm which lends itself to all year round use.  The floor is manufactured using heavy duty bearers, 75mm Celotex and a 15mm ply floor which can either be carpeted or an engineered timber floor can be installed for a hard wearing and an easy clean option.  We supplied and installed an engineered floor as part of the installation, in this particular case 'harbour Oak', please contact us for further information.
The roof is insulated and comes with an inner ply, metal Rolaclad type roof covering and internal spot lights.  Also within the electrics pack there is consumer unit, 3 double sockets, a switch and external spots to light up the porch area.
This particular model was supplied with one set of 1200mm wide anthracite grey uPVC multi-lock French doors, two reduced size anthracite grey uPVC sidelights which provides a modern look and lots of light.  In addition, it has one contemporary window to the right hand elevation.  The building is designed to be modular so during the ordering process you have the opportunity to choose where you want the windows and doors to be.
If you are interested in this design or would like something similar please do not hesitate to contact us for a quotation?
TESTIMONIAL
"We recently had a really lovely home working area / garden room installed in our little garden and we are delighted . The room has not only enhanced our home but has made our garden feel part of our house . James did everything he said he would do, at every stage was punctual and easy to communicate with. The construction was straight forward and is of a high quality , totally sound proofed and warm and cosy . The cedar stain enhanced the look of the exterior and we got the inside painted which was a great add on . We already spend significant time using it and it was such a great decision to give us space without any hassle." Verified Review By Houzz

Mrs & Mrs H – Lyndhurst, Hampshire.