Mr & Mrs S. contacted Garden Retreat, April 2015. They specifically wanted to have a building that doubled up as not only a garden office or garden room but also wanted a store / shed as part of the design.  They wanted maintenance free, a contemporary look and something 'a bit different'.  In actual fact they had decided on a competitors building but after discussions with Garden Retreat found they could customise the design to exactly what they wanted and were also able to reduce the cost from their original budget.
This Customer had also engaged a local garden design company, www.coolgardens.co.uk and with Garden Retreat were able to transform the bottom of the garden and provide the customers with exactly what they wanted.
After an initial consultation we developed a mock-up of the building and then spent time designing into the structure the Customers requirements, specifically a garden office that could be used all year round.
Concept Photos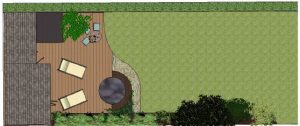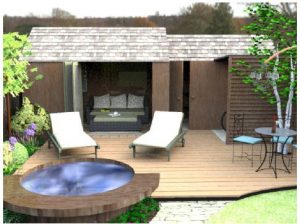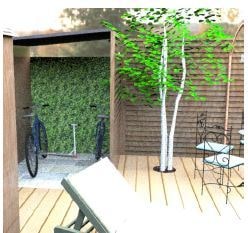 Completed Photos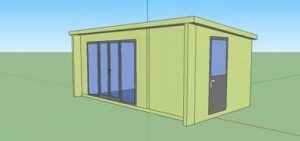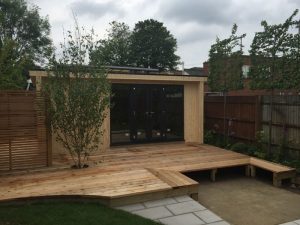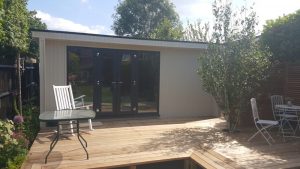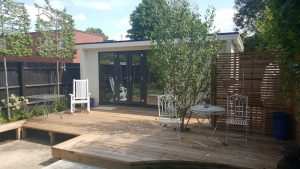 Most timber buildings have horizontal cladding which provides the optimum water proofing as the rain will run from one lap over another.  For this building, the Customer wanted a vertical cladding so we used pre-grooved externally treated 12mm ply, 2.4m x 1.2m sheets, to create the look which ensured it is water proof and gave the contemporary look they wanted.  The Customer then painted the exterior ply with 'Arabian Sand' from the Cuprinol Heritage Shades range which works very well with the anthracite grey uPVC windows and doors.
The building is constructed using the external grooved ply, which covers a vapour barrier with 50mm of polystyrene built into the walls and roof, with 75mm of Celotex in the floor. The main construction of the walls is a 75mm x 38mm timber frame with a set of uPVC French doors with 2 800mm full height side lights either side all in anthracite grey.  The building had built into it an insulated partition with a half double glazed uPVC door for the shed / store to the right hand elevation. The roof timbers and bearers are extremely heavy duty and with a metal clad roof this building requires little or no maintenance.
This particular building also came with a full electrics pack which included spot lights in the ceiling, consumer unit, 3 double sockets and they also requested external canopy lights which are on a timer to give a warm inviting glow when it becomes dark.  The normal number of external lights are 10 and are based on external decking lights.  In addition to this the shed / store was fitted with a double socket, switch and light
Finally, the decked area lends itself to an area for sunbathing, BBQs, entertaining and just generally relaxing in a beautiful environment.  These particular photos do not show the final addition, the hot tub!
If you are interested in this design or would like something similar please do not hesitate to contact us for a quotation?
Testimonial
"We have been very happy throughout the process from design to installation with Garden Retreat.  We were not the easiest of Customers, we wanted a very specific look and detail is important to us.

James spent a lot of time working with us to ensure all the elements were designed into the building and had a large number of examples of previous projects which demonstrated their ability to provide us with the garden office and store we wanted.

Finally they worked very well with our garden designers, the installers were polite and cleared up after the timber building had been installed.

We would be happy to recommend Garden Retreat to any of our friends and would like to thank them for all their efforts." Verified Review By Houzz

Mr & Mrs S – Bourne End, Bucks