Mr & Mrs S. contacted Garden Retreat October 2014 and were interested in having manufactured and installed a garden building that would take full advantage of their amazing views and to also create a relaxing garden room that could also be a focal point for socialising and just having fun!
This Customer had only just recently moved in and had an existing building which they wanted to replace with something more modern and contemporary and could be used all year round.
Before Photos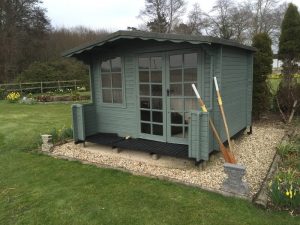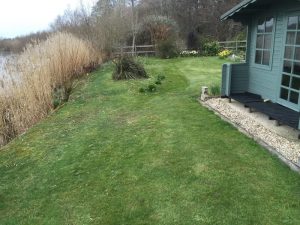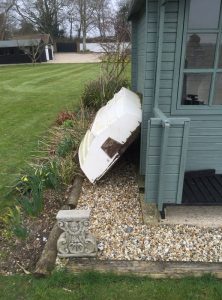 We visited a number of times to gain a good understanding of the requirement. The brief was to have a contemporary look, little or no maintenance and have a building that could be used throughout the seasons and more importantly make the most of the stunning views.
Completed Photos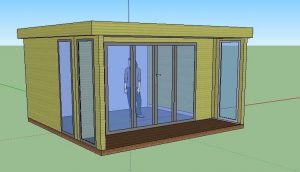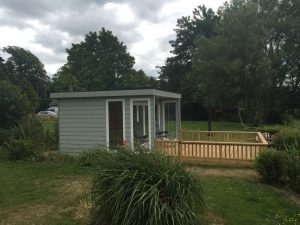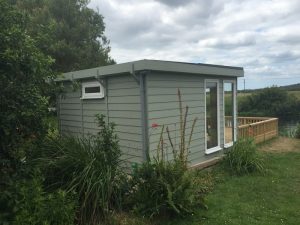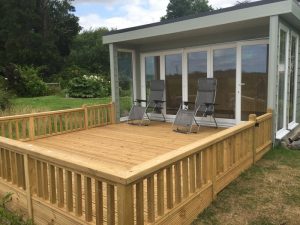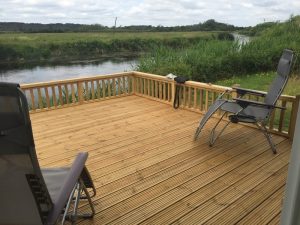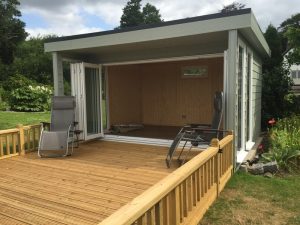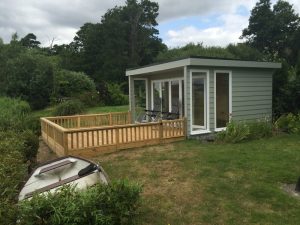 This building is constructed using Cedral Lap Weatherboard in a Grey Green, which covers a vapour barrier with 75mm of Celotex built into the walls, floor and roof. The main construction of the walls is a 75mm x 38mm timber frame with an RSJ over the 5 pane uPVC sliding doors to create an extremely rigid building built to last. The roof timbers and bearers are extremely heavy duty and with a metal clad roof this building requires no maintenance. There are 4 large sidelight uPVC windows to maximise a 180 degree view with a generous overhang and side wings to protect from the wind.
Due to the positioning of the garden room and its proximity to the river we jacked up the building by an additional 150mm, 250mm in total, to reduce the likelihood of flooding and with built in and hidden guttering the building stays dry, warm and cosy.
This particular building also came with a full electrics pack which included spot lights in the ceiling, consumer unit, 3 double sockets and they also requested external canopy lights which are on a timer to give a warm inviting glow when it becomes dark.
Finally, the decked area lends itself to an area for sunbathing, BBQs, entertaining and just generally relaxing in a beautiful environment.
If you are interested in this design or would like something similar please do not hesitate to contact us for a quotation?
Testimonial
"Hi Jim,

Everything is great with the summerhouse! I think it's virtually bomb proof!!…….. Very happy.

Of course I can do a positive testimonial from me no problem at all.

And if it helps you can show our building to someone else if they want to see it. Just give me a call…….

All the best!"

Mr & Mrs S, Christchurch, Dorset, 3.0m x 4.0m Contemporary Garden Room