Mr & Mrs S contacted Garden Retreat March 2016 and were specifically interested in a Contemporary Garden Office to be installed in the back garden. Both as professionals, they work from home and with busy lives and children they needed somewhere to work in peace and quite.  They also wanted the building to double up as somewhere to watch TV and pursue their hobbies and with a sofa bed, will be used for guests to stay in when visiting.
One of the issues to overcome was the site and ground levels. The site had a 500mm fall from front to back and they did not want a concrete base and all the associate soil excavation and concrete slab to enable the building to be erected.  To overcome this we recommended a 'Swift Foundation' which is basically a structural timber raft which sits on 9 concrete plinths which are fully adjustable for final leveling.  This system has been structurally designed to support any building, has been tested and certified and is an excellent solution to extreme variations in ground level, difficult access or you may just not want a concrete slab.
Before Photos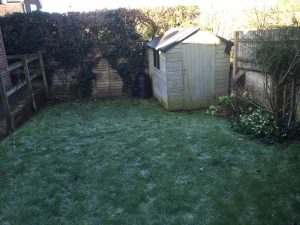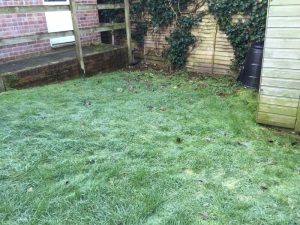 These photographs show the site before any work had started and as you can see there is a significant drop towards the rear of the proposed site.
Timber Raft Photos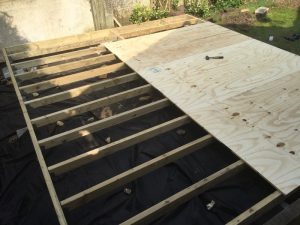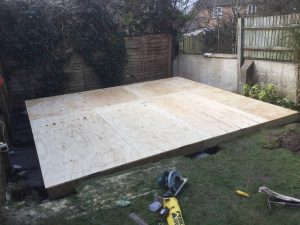 This particular size raft uses 9 plinths, 150mm x 50mm ring beam and centre spine with 100mm x 50mm joists and 18mm external ply.  We then wrapped the top and sides with a damp proof sheet ready for the building to be installed.
Concept Photo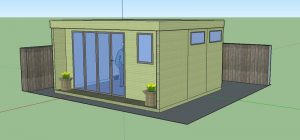 Completed Photos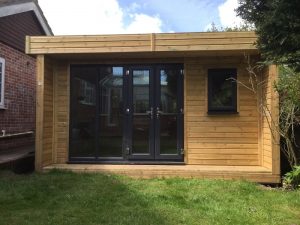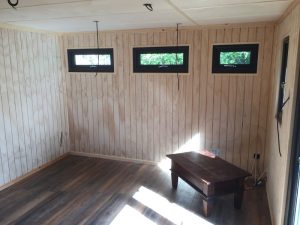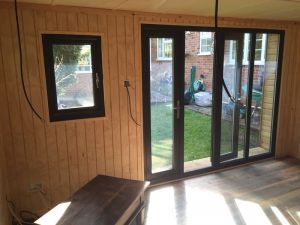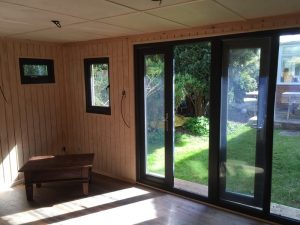 The overall width of the garden is 5.2m so with a building width of 4.4m we have maximised the space and to the rear there is a 600mm gap which allows the building to be maintained.
This contemporary garden building is constructed using an external timber clad with tanalith BS8417 shiplap and bitumen paper.  The walls are constructed using a 75mm x 38mm timber frame, 50mm polystyrene and a grooved 12mm inner ply to finish the walls. The total thickness of the walls is 100mm which lends itself to all year round use.  The floor is manufactured using heavy duty bearers, 75mm Celotex and a 12mm ply floor which can either be carpeted or a vinyl floor can be installed for a hard wearing and an easily clean option.  We supplied and installed a vinyl floor as part of the installation, in this particular case 'Harbour Oak', please contact us for further information.
The roof is insulated and comes with an inner ply, metal Rolaclad roof covering and internal spot lights.  Also within the electrics pack there is consumer unit, 3 double sockets and a switch. In this instance the Customer requested sockets with built in USB charging points and external spots to light up the porch area.
This particular model was supplied with one set of 1200mm wide anthracite grey uPVC multi-lock french doors and one 1200mm anthracite grey uPVC sidelight which provides a modern look and lots of light.  In addition, it has a contemporary window in the front elevation and 3 vent windows to the right hand elevation for ventilation when you do not want to open the doors.   The building is designed to be modular so during the ordering process you have the opportunity to choose where you want the windows and doors to be.
The Customer wanted to have a porch so we designed it with a 500mm decked section with side wings to keep the rain and wind away from the doors and it gives them an opportunity to take of their shoes before entering the building.
Finally, as part of the project we installed a mini soak away to ensure the rain water does not wash over the plinths and undermine the foundation.
If you are interested in this design or would like something similar please do not hesitate to contact us for a quotation?
Testimonial
"James was very helpful and proactive during the design phase and suggested lots of options when we were designing the office. After the installation he was keen to check everything was in order. He was rapid and timely sorting out the minor niggles that occur on any project and made sure that we were completely happy with our office after installation. He was a pleasure to work with and I would recommend his expertise and proactive approach.". Verified Review By Houzz

Mr & Mrs S – Downton, Salisbury, Wiltshire.