Mr & Mrs W made contact with Garden Retreat as a result of having their beach hut destroyed by vandalism.  They wanted a local company in Dorset to build them a new beach hut to their specific design which included certain anti-vandal specifications to ensure the beach hut had maximum protection when they were at home in Basingstoke.
The design of the building had to be such that it would put up with harsh conditions including the salt from the sea, potentially high winds and there is also the driving rain to consider.  They also wanted to install a small changing room inside to allow private changing when on holiday.  Not only were we required to build and install the beach hut but also create a base for it, which was not straight forward as it had to be set out on an uneven hard rock surface.  We then had to build 15 level plinths and span them with 100mm square timber bearers to install the building which must be flat and level.
Completed Photos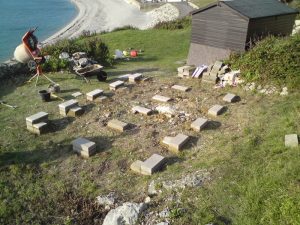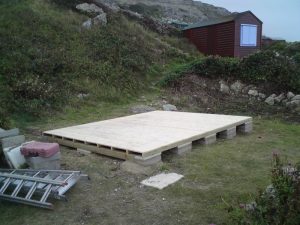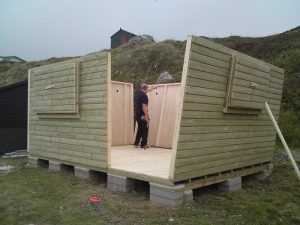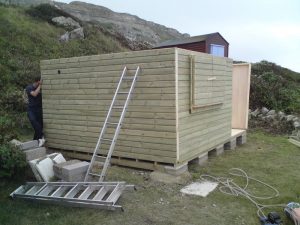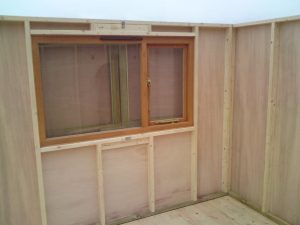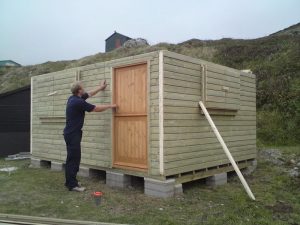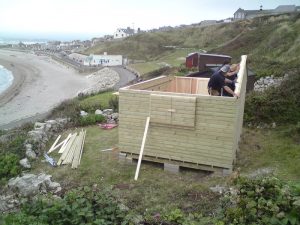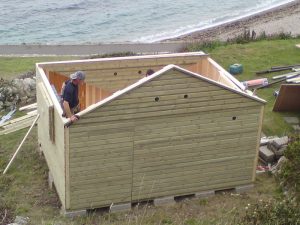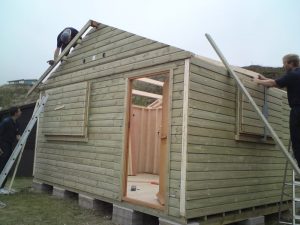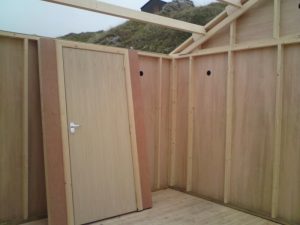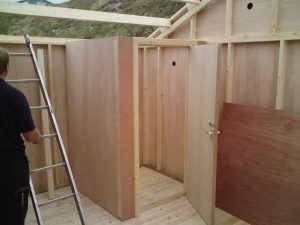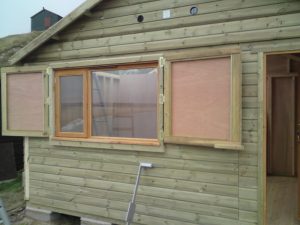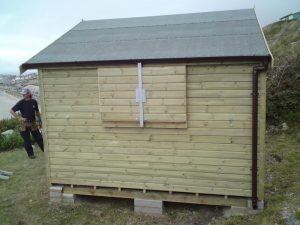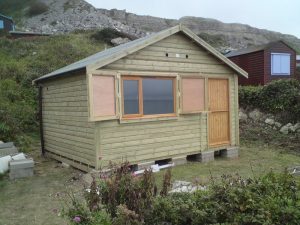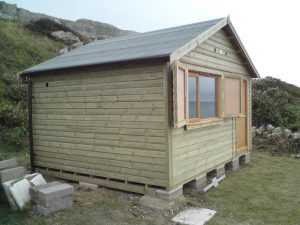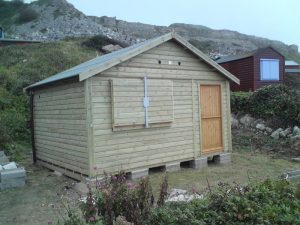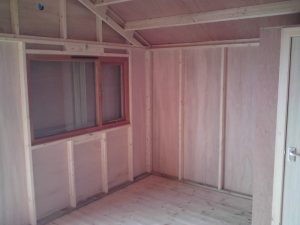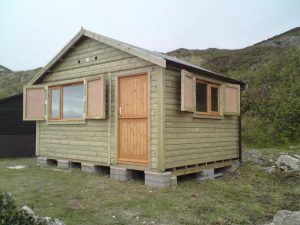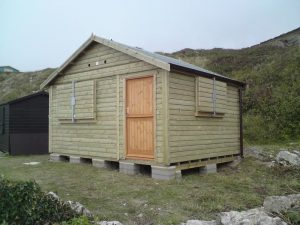 This building is constructed using an external timber clad with tanalith BS8417 shiplap and bitumen paper.  The bitumen paper is ideal for this location as it seals the building from water ingress and makes it wind tight.  On the inside of the walls 4mm ply is used to cover and sandwich the bitumen paper, it provides a more aesthetic finish.  In this instance the Customer organised their own insulation and boarding to finish off the inside of the beach hut.  We do however provide an insulation and boarding service if required.
The roof is made from a heavy duty OSB moisture treated board with a heavy duty felt although there are a range of other roof coverings available.
Finally, along with the double glazed windows we installed a stable door with a 5 lever Yale lock and designed heavy duty shutters to protect the windows when the beach hut is not being used.  There are then two heavy-duty galvanised steel strips with studs which pass through the walls and are secured with wing nut bolts for speed from the inside.
If you are interested in this design or would like something similar please do not hesitate to contact us for a quotation?
Testimonial
"Thank you so much for everything, especially your expertise & thoughtfulness, a pleasure doing business with you and we have no problem recommending your work 100%" Verified Review By Houzz

Mr & Mrs W– Portland Bill, Dorset – 14ft x 11ft Customised Beach Hut