Mr P contacted Garden Retreat April with a requirement for a garden office for two reasons.  Firstly, to create a space to work but also an area to store equipment which relates to the Clients' business.  Secondly, it will double up as additional storage and a quite working area during a refurbishment project in the house which is to start imminently.
Like a number of houses in London access is not always easy and in this particular case we were not able to access the site via the address unless we either went through the house which was not really an option due to tight corners or alternatively remove the windows to the front and rear but this was not really an ideal option either.
The only other solution was to approach a neighbour to the rear of the garden who did have a side access and kindly allowed our team of installers to pass over the sections into the Client's garden.
So, after a number of conversions between the Client and the neighbour work commenced starting by the removal of an old shed and base to clear the way for the new Garden Office.
Before Photos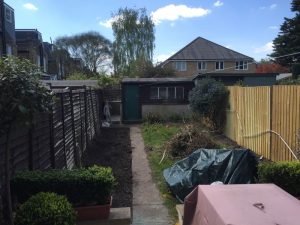 Old shed and base required demolishing
Concept Photo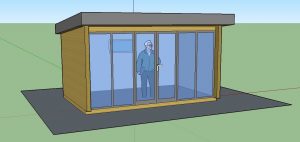 Completed Photos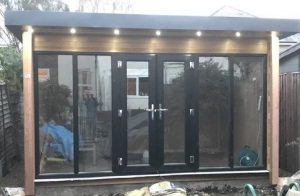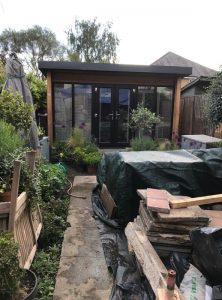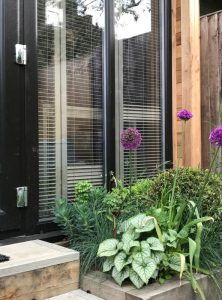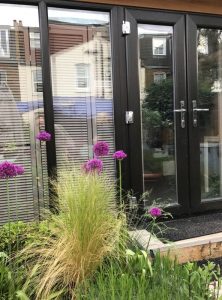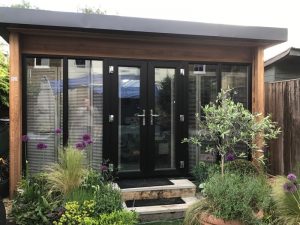 This contemporary garden building is constructed using an external cedar clad and bitumen paper to ensure any damp is kept out of the building.  The walls are constructed using a 75mm x 38mm timber frame, 50mm polystyrene and an MDF 12mm inner lining to finish the walls. The total thickness of the walls is 100mm which lends itself to all year round use.  The floor is manufactured using heavy duty bearers, 75mm Celotex and a 12mm ply floor which can either be carpeted or a vinyl floor can be installed for a hard wearing and an easily clean option. We can install a laminated floor if required, please contact us for further details.
The roof is insulated and comes with an inner ply, metal Rolaclad roof covering and internal spot lights.  Also within the electrics pack there is consumer unit, 3 double sockets and a switch. We also install sockets with built in USB charging points which is very useful and this building also has external spots to light up the porch area.
This particular model was supplied with one set of 1200mm wide black uPVC multi-lock french doors and two 1200mm black uPVC sidelights which provides a modern look and lots of light.  In addition, it has a vent window to the rear elevation for ventilation if you do not want to open the french doors.  The building is designed to be modular so during the ordering process you have the opportunity to choose where you want the windows and doors to be.
If you are interested in this design or would like something similar please do not hesitate to contact us for a quotation?
Testimonial
"James and the team at Garden Retreat have been great – I was not certain what I wanted and when I thought I did I then changed my mind (on several occasions). They fulfilled all promises, were flexible and provided a very good quality product at a price which could not be matched.

I now have an attractive garden building which for me will provide office and storage space.

I am happy , very happy and so are my neighbours!" Verified Review By Houzz

Mr P – Earlsfield, London.