Mr S approached Garden Retreat, November 2015 interested in a quadruple garage which would form part of an overall refurbishment project for their house. The Clients specific requirement was to have plenty of storage space during the build and once complete the garage would be used as a 3 bay garage and a workroom / office in the 4th bay.
Garden Retreat were asked to supply elevations drawings for the Client to gain planning permission.  Due to the position of trees the Client also had to get structural engineers involved to design a raft concrete base.
Planning Drawings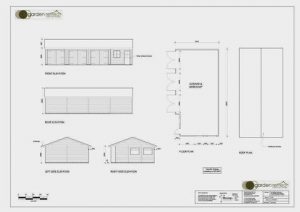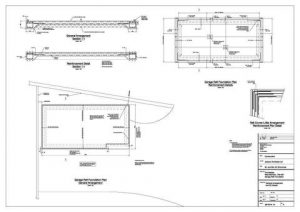 Structural drawing for raft concrete base
Base Photos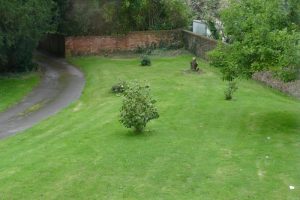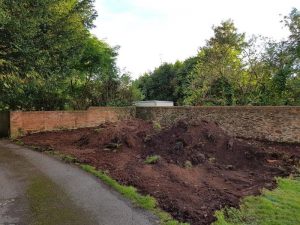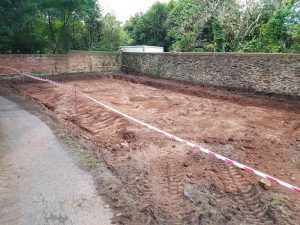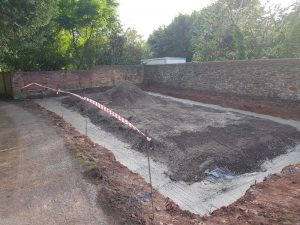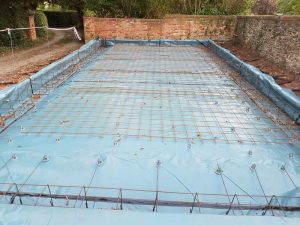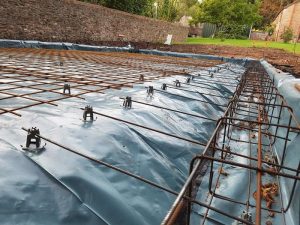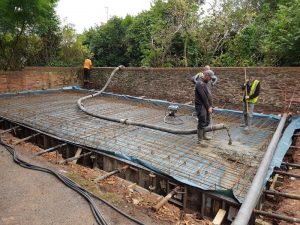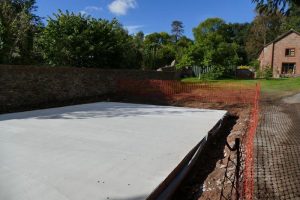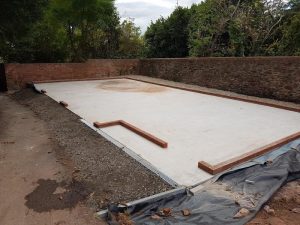 Installation and Completed Photos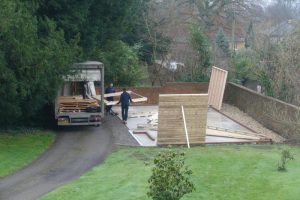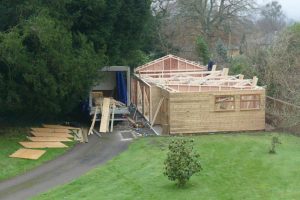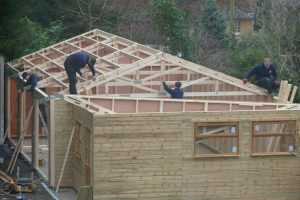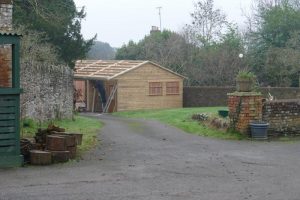 Our timber garages are constructed using 100mm x 38mm timber framing, clad with tanalith BS8417 shiplap, bitumen paper and 4mm plywood lining. This particular garage, has 300mm overhangs to the front and rear and includes guttering and 150mm overhang on the gable ends . The eaves height on a quadruple garage with the doors under the eves is normally 7' 7" plus the single engineering brick course.  In this instance the ridge height ends up at around 3.8m in total.
The standard roofing is heavy duty 38kg green mineral felt onto 12mm O.S.B. Boarding. The boarding is fitted onto 50mm x 125mm joists and purlins are spaced at 2′ centres.
There are a range of roof coverings and in this instance the Client has opted for red / brown felt tiles which are overlaid onto an under felt.
Three of the bays have the standard double barn doors although they have been slightly modified with the door furniture on the inside and shot bolts top and bottom inside both doors. This is to increase the level of security and the doors can only be opened from the inside.
The last bay will be used as a workroom / office and has 3 large garage windows with double glazed units and a traditional double glazed garden office window and door.  The 4th bay has also been recessed which segregates it from the rest of the building in terms of use and creates a 600mm overhang to protect the client from the weather when entering / exiting the workroom / office area.
To ensure the garage is water tight on the base the sections are bolted through the single course of bricks into the concrete base and the timber clad runs 50mm down the outside of the brick.  In addition to this the vapour barrier also runs down the same distance ensuring no rain water can get into the building.  One further measure is a DPC is attached to the bottom rail of the section which sits on the top of the brick and stops any moisture in the brick rising up into the timbers.
If you are interested in this design or would like something similar please do not hesitate to contact us for a quotation?
Testimonial
"So pleased with the garage, great product, there were a few issues but Garden Retreat soon resolved them" Verified Review By Houzz

Mr S – West Monkton, Somerset.