Mr & Mrs S contacted Garden Retreat after initially looking for a building from a competitor to be installed as a quiet place for Mrs S to write poetry. The reason they contacted Garden Retreat was the proposed garden room had to satisfy local planning restrictions in the beautiful village of Beaminster, Dorset.
Garden Retreat specialise in providing buildings that not only satisfies the clients requirements but also planning requirements. Our standard building has uPVC windows and doors and a particular style of metal roof.  In this instance we modified one of our Contemporary Garden Offices and installed timber double glazed windows and doors and a sinusoidal profiled roof (I know, a posh word for corrugated iron from the planners) and satisfied both the client and local planners.
CONCEPT PHOTO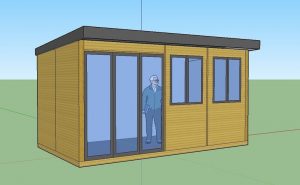 THE BUILD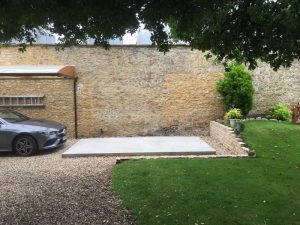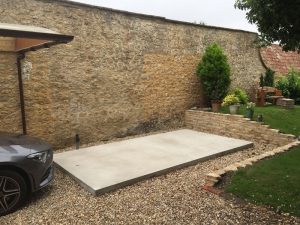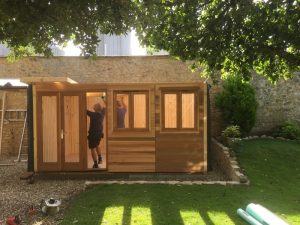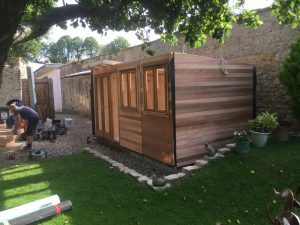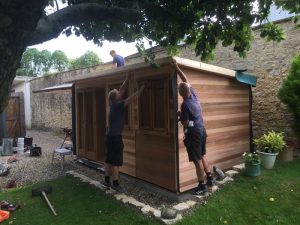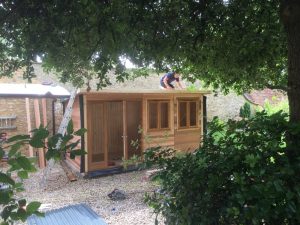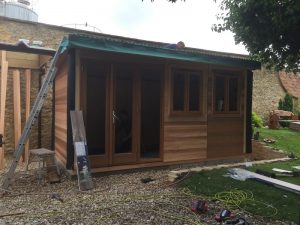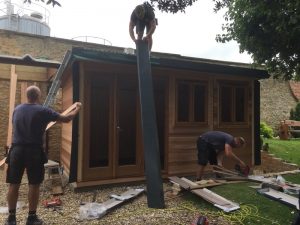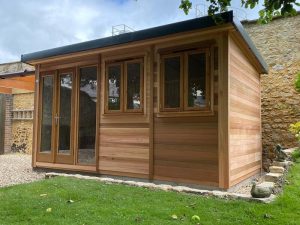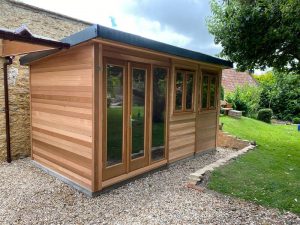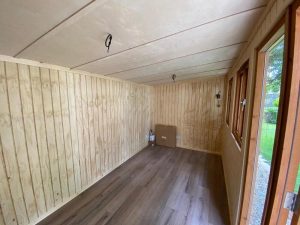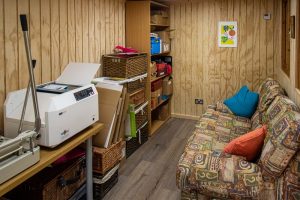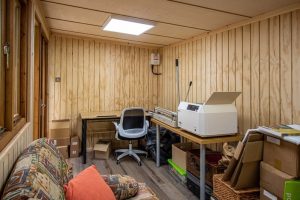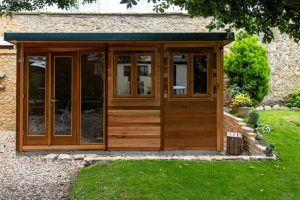 This contemporary garden building is constructed using an external cedar clad and bitumen paper to ensure any damp is kept out of the building.  The walls are constructed using a 75mm x 38mm timber frame, 50mm Celotex and an grooved brushed ply 12mm inner lining to finish the walls. The total thickness of the walls is 100mm which lends itself to all year round use.  The floor is manufactured using heavy duty bearers, 70mm Celotex and a 15mm ply floor which can either be carpeted or a vinyl floor can be installed for a hard wearing, easy clean option. These buildings now included and engineered laminated floor as standard, please contact us for further details and options.
The roof is insulated and comes with an inner ply, metal Rolaclad roof, underfelt and internal spot lights.  Also within the electrics pack there is consumer unit, 3 double sockets and a switch. We also install sockets with built in USB charging points which is very useful and this building also has external spots to light up the porch area.
This particular model was supplied with one set of 1200mm wide timber framed French doors and one 600mm double glazed sidelight which provides a traditional look and lots of light.  In addition, it has two double casement timber windows for ventilation if you do not want to open the French doors.  The building is designed to be modular so during the ordering process you have the opportunity to choose where you want the windows and doors to be.
If you are interested in this design or would like something similar please do not hesitate to contact us for a quotation?
TESTIMONIAL
"We had some difficulty with our planned garden office due to Listed Buildings Officer requirements. Sent the requirements of LBO with our planned dimensions, and Garden Retreat promptly and carefully came up with a proposal to suit both; the end result was more expensive than planned but the office looks stunning (the cedar cladding is beautiful) and has a higher specification: well worth the extra cost. The communication has been excellent throughout, especially when we had a query with the electric cabling from our electricians – all resolved professionally and efficiently. Some very helpful advice received on protecting the cedar cladding." Verified Review By Houzz

Mr & Mrs S – Beaminster, Dorset.