Ms R contacted Garden Retreat April 2015 and was specifically interested in a Contemporary Garden Office to be installed at the bottom of the garden.  The overall width of the garden is 4.8m so we designed it to fit with minimum access to enable the building to be maintained but also to maximize the space available.  The new contemporary garden office will allow the customer to separate work away from home and enable them to reclaim the room in the house back to its original use.
This was however not a straightforward installation.  The Client's house is a terraced house which was three in from the end and there was no side access or rear access which made the installation element of the project tricky.
Most of the sections were taken through the house but in this instance the roof sections has to go over 3 fences which were happy to do.  We provided additional labour to ensure the installation was completed within a day and everything went to plan.
Concept Photo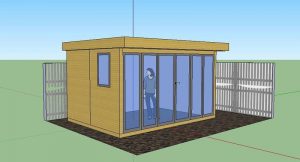 Completed Photos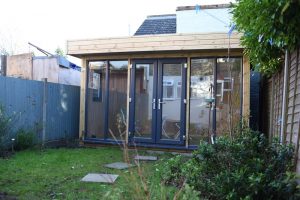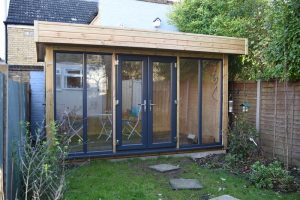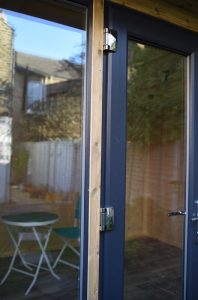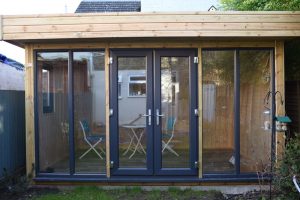 This contemporary garden building is constructed using an external timber clad with tanalith BS8417 shiplap and bitumen paper.  The walls are constructed using a 75mm x 38mm timber frame, 50mm polystyrene and a grooved 12mm inner ply to finish the walls. The total thickness of the walls is 100mm which lends itself to all year round use.  The floor is manufactured using heavy duty bearers, 75mm Celotex and a 12mm ply floor which can either be carpeted or a vinyl floor can be installed for a hard wearing and an easily clean option.  We supplied and installed a vinyl floor as part of the installation, in this particular case 'Rift Oak', please contact us for further information.
The roof is insulated and comes with an inner ply, metal Rolaclad roof covering and internal spot lights.  Also within the electrics pack there is consumer unit, 3 double sockets and a switch.
This particular model was supplied with one set of 1400mm wide anthracite grey uPVC multi-lock french doors and two sets of 1200mm anthracite grey uPVC sidelights which provides a modern look and lots of light.  In addition, it has a contemporary window in the left hand elevation for ventilation for when you do not want to open the doors.   The building is designed to be modular so during the ordering process you have the opportunity to choose where you want the windows and doors to be.
If you are interested in this design or would like something similar please do not hesitate to contact us for a quotation?
Testimonial
"A great experience. Jim was informative throughout the process, answering all our awkward questions with real knowledge and insight. The final building exceeds our expectations. Brilliant!". Verified Review By Houzz

Ms R – Crystal Palace, London, 4.0m x 2.8m Contemporary Garden Office with Grey Anthracite uPVC Doors and Windows